Contact Us
HEAT TREATMENT SALES & SERVICES
L / 119 , G. I. D. C.
Industrial Town Ship,
Odhav, Ahmedabad.
Gujarat (India)
E-mail :
Th-270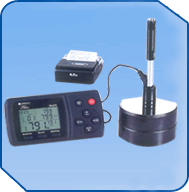 The Yamayo Bliss Th-270 is an advanced hardness tester distinguished by its high accuracy. wide measuring range and simplicity of operation. it is most suitable for testing of:
Individual parts, or components in assembly machines
Mould surface of a die
Heavy Components e.g.rolls for rolling mills,etc
Testing in a production line e.g. Crank shafts. Cylinder blocks, etc
It can be used for most metals and can display results in sutable scales. its highly saphisticated Infrared printer facilitates on line printing with great ease.
Confirms to the Internationally Acceptable standard ASTM A956 - 02
Technical Parameters
HL display range

0 ~ 999HLD

Accuracy

+6 Hl (at 800 HLD)

Repeatability

+ 6 Hl

Testing direction

Any direction

Display

Large Lcd with back light

Scales

HRb, Hrc, Hb,Hv, Hsd, Mpa,

Power

dry cell (3 x 1.5v AAA )

Operating temperature

0°C ~ + 50°C (32°F ~ 122°F)

Stonage temperature

10°C ~ + 60° C (14°F ~ 140 °F)

Humidity

5 % ~ 95 %

Dimensions

150mm*80mm*24mm (5.9 x 3.1 x 0.9 inches)

Weight

Approx. 200g (display unit)

Min.weight of test object

5kg ( less than 5kg to 0.1kg must be coupled on solid support

Min. thickness of test object

5mm(less than 5mm up to 3mm must be coupled )

Min.thickness of layers

0.8mm

Min. Radius of curved surface

30mm (with optional support rings:11mm)

Measuring Range

HRC : 19.8 ~ 68.5, HB : 30 ~ 655, HV:80~976,
HRB:13.5 ~ 99.6, HSD:26.4 ~ 99.5, Mpa:375 ~
2639

Standard accessories

Display unit, Impact Device D, Test Block, Mini Printer, Charger, Little supporting clearing Brush, Printer cable