Contact Us
HEAT TREATMENT SALES & SERVICES
L / 119 , G. I. D. C.
Industrial Town Ship,
Odhav, Ahmedabad.
Gujarat (India)
E-mail :
MIC-20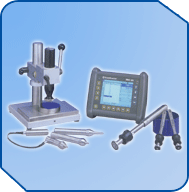 The MIC 20 is a versatile two-in-one tester combining the UCI (Ultrasonic Contact Impedance) and rebound test methods. The UCI method tests small and complex shaped parts comprised of fine-grained metals, while the rebound method is preferred for larger, coarse-grained forgings and castings.
Products Features
Combined hardness tester for quasi-static hardness testing according to the UCI method (ASTM A1038) and dynamic hardness testing according to the rebound method (ASTM A956)

UCI probes for hardness testing of fine-grained materials having different masses and shapes or heat-treated surfaces.

Rebound impact devices for hardness testing on large, coarse-grained components, forgings, and cast materials

Automatic scale conversion to HV, HB, HRC, HRB, HS, HL and N/mm2

Operation by keys and/or integrated touch screen, easy input of alphanumerical data

Power supply: mains adapter (100 V - 240 V) or NiMH battery pack MIC 20-BAT (internal charging)

Internal data memory for approx. 5,000 measurement series

Quick and easy calibration to various test materials. Calibration data are saved and can be recalled

Non-directional measurement without input of any correction factors

Large color TFT display shows all necessary information during measurement, such as average, single value, or statistical data at a glance

Clearly arranged data memory to save measurement results in an easy and structured way. Measurement series can be recalled and edited.
Applications